Research & Pharmaceutical Materials Stored in Temperature Controlled Units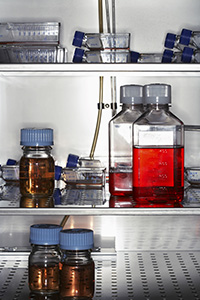 Spoilage losses of high value research materials stored in temperature controlled units (i.e. freezers, refrigerators, incubators and cold rooms) caused by mechanical failure prompted the University's insurers to mandate prevention efforts as a condition of continued insurance coverage. This included the installation of continuous monitoring devices or systems on all temperature controlled units, maintenance of an active inventory and report of estimated dollar value of materials (maximum of $1.25M per unit).
You may contact University Purchasing at (801) 581-7241 for information regarding the purchase or preventive maintenance of your temperature controlled unit(s), auto-dial or continuous monitoring devices.
Departments and Research Labs are required to submit an annual survey of temperature controlled units and material valuations to University Risk & Insurance Services (URIS) each year. If your temperature controlled unit is not reported to URIS or found in the current database, it is not insured. Please call our office if you want to verify your department unit(s) and contents are insured.
Please also see the list of Loss Prevention Protocols which applies to temperature controlled units containing research or pharmaceutical materials.
If you experience a theft or damage and want to process an insurance claim, please contact University Risk & Insurance Services at 801-581-5590 or refer to our Property Loss Recovery Procedures page. Claims are subject to a $2,500 per occurrence deductible.